Celebrating 75 Years (1947-2022)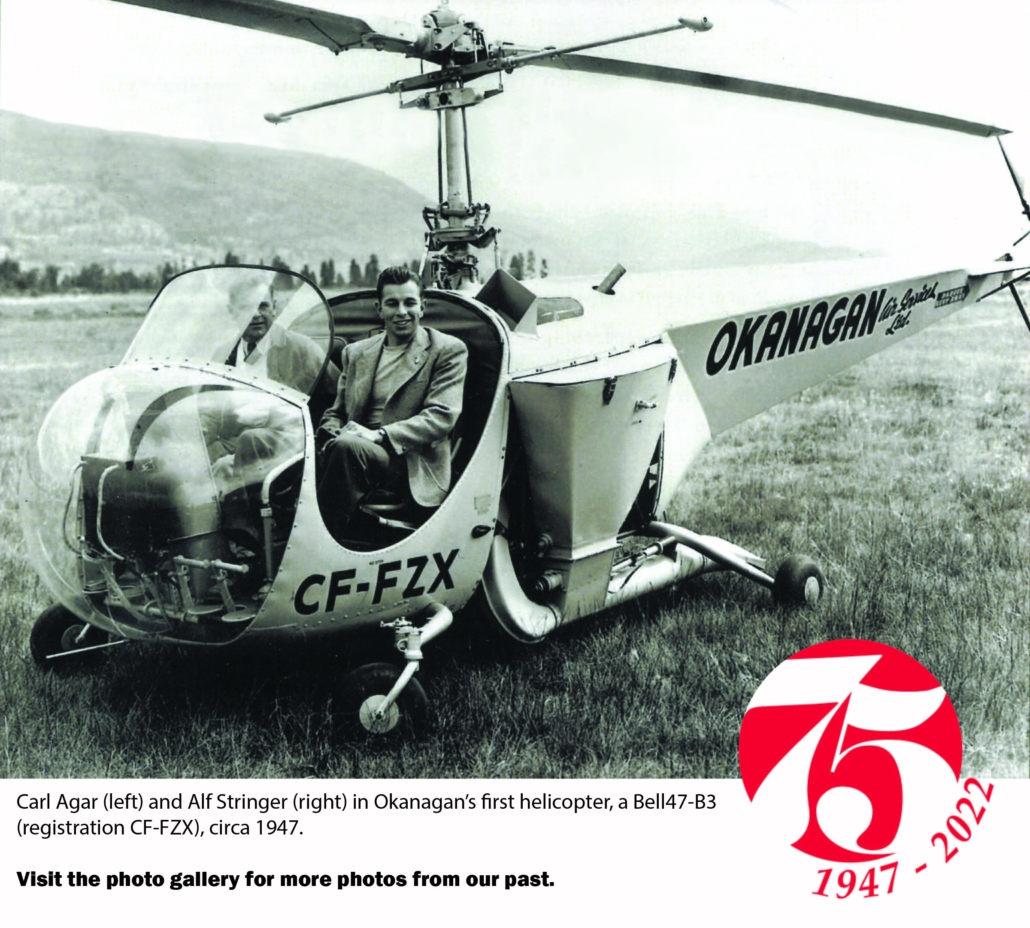 2022 is a monumental year in Canadian Helicopters' history.  On April 18th of this year, Canadian Helicopters celebrated the 75th Anniversary of its incorporation.
Our story began in 1947 when three Royal Canadian Air Force veterans (Barney Bent, Carl Agar, and Alf Stringer) purchased a Bell 47B3 helicopter, call sign CF-FZX, and founded Okanagan Air Services Ltd. Their vision was to provide orchards and farmland in British Columbia with an innovative form of pest control by way of aerial spraying and dusting.  Little did they know, their modest concept would grow into a remarkable legacy.
From those humble beginnings, the company transformed and grew.   A series of mergers, acquisitions (and at times disposals) involved some notable Canadian and international helicopter companies: Viking, Associated, Sealand, and Helicopters New Zealand, to name a few.  The company also grew to include a maintenance, repair and support business which forms a substantial part of its activities today. Canadian Helicopters developed and mastered safe mountain flying techniques as well as advanced operational and Night Vision Goggle training, now delivered though its sister company, Topflight Elite Training and Charter. Ownership of Canadian Helicopters has changed throughout its history including both public and private ownership.  Canadian Helicopters, in its recent form, has provided services in many parts of the world including Canada, Asia, Asia Pacific, Antarctica and the United States.
Today, Canadian Helicopters is privately owned and employs over 400 employees through its subsidiaries.  The enduring success of the company can largely be attributed to the dedication of those employees, both past and present, and the support of our customers, some of whom have been with us since the very early years. Thank you for your ongoing support through the decades.
Please join me in celebrating a significant year in Canadian Helicopters' history.
Don Wall
President and CEO
Canadian Helicopters Limited
/wp-content/uploads/2022/01/logo-CANHEL-75ans-1.jpg
0
0
Joannah
/wp-content/uploads/2022/01/logo-CANHEL-75ans-1.jpg
Joannah
2022-04-18 12:00:11
2022-04-18 15:44:19
Celebrating 75 Years (1947-2022)